The Equitable Building of Hollywood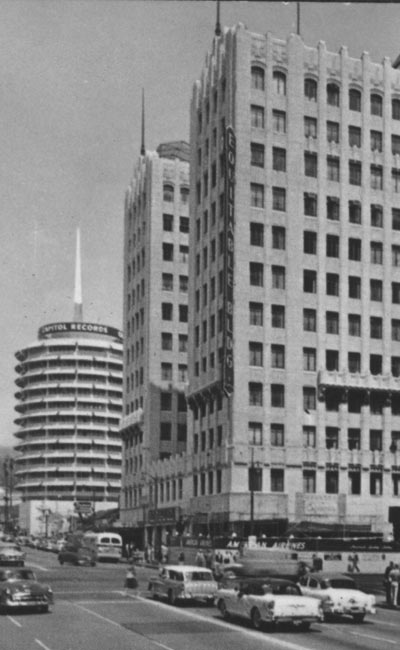 The Equitable Building of Hollywood was the second high-rise office building built at the intersection of Hollywood and Vine and would be a symbol of the new money that was being invested in Hollywood. When the Equitable Building was planned in 1927, it would be required to conform to a certain height limit of 150 feet on the NE corner which was for many years the site of a house and later a used auto lot. In 1926 a one-story bank building was built on the site and served the intersection there until the property was cleared for construction in 1929. The planning and financing was the work of Sam Kress of the drug store chain and he wanted to include a brokerage office that would connect Hollywood directly to Wall Street. The architectural plan designed by architect Aleck Curlett, would include a bank on the ground floor and its design would include gargoyle details and a copper roof.
The Equitable Building was completed at the end of 1930 and in November the powerful agent, Myron Selznick (brother of David O. Selznick) moved his agency into the building bringing with him such clients as Vivien Leigh, Laurence Olivier, Gary Cooper, Henry Fonda, Boris Karloff, Carole Lombard, and others. By 1939 with the success of radio in Hollywood, many advertising agencies leased space in the building. The giant Williams Esty and Company were responsible for the Camel cigarette ads and the sponsorship of the radio version of Blondie with Penny Singleton and Arthur Lake on CBS. By 1942, Young and Rubicam Company moved into the building and did the advertising for the U.S. War Department on the radio. In 1945 Rudy Vallee had offices in the building along with the advertising agency, Benton and Bowles who sponsored the popular Glamour and Manor Show. By 1949 Belasco's Restaurant opened at 1710 N. Vine Street on the ground floor of the building and remained there into the late 1980s until Collectors Bookshop took over the space.
By 1951 the ground floor of the California Bank was taken over by Bernard Luggage Company and four years later by American Airlines. Throughout the 1950s-1970s the Equitable Building went through many changes and tenants. With the coming of 2000 Tom Gilmour purchased the building and began a restoration program of two years. In 2002 The Hollywood and Vine Diner opened early in the year with a motif of vintage Hollywood. The interior was designed like the old Hollywood restaurants of yesteryear with wood paneled rooms and booths reminiscent of Musso and Frank and Henry's. The interior decoration is highlighted with historic photographs of old Hollywood showing premieres, film personalities, street scenes and Hollywood landmarks all provided by Marc Wanamaker of Bison Archives. Today the building is still in need of tenants, but still remains one of Hollywood's historic landmarks at Hollywood and Vine, The Heart of Hollywood.